The competitors in the preliminaries
Wednesday February 20
Alba Careta Arnaus (1995), trumpet, voice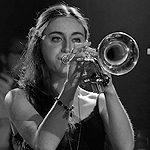 Alba Careta Arnaus is from Spain en studies at the Conservatorium of Amsterdam. Her own compositions are inspired by musicians like Ambrose Akinmusire, Tigran Hamasyan and Omer Avital. Performing, she combines these with jazz-standards, Catalan folk music and boleros. In 2017 she recorded her first album, Orígens.
Accompanists:
Egor Doubay (België, 1995), tenor sax;
Adrian Moncada (Spanje, 1994), piano;
Jort Terwijn (Nederland, 1993), bass;
Joao Guerra (Portugal, 1995), drums.
Tristan Schmidt (1993), piano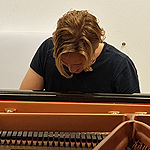 Tristan Schmidt was born in Amsterdam and he studies at the Conservatory of his birth-town. Two years ago, Tristan and his accompanists started to jam together in Amsterdam. It proved to be a match. A playful approach, improvisation and variation of high tension-moments and spaces, creating the music from the void, characterize the way this combo plays.
Accompanists:
Francisco Nogueira, bass;
Timo Menkveld, drums.
Elias Lapia (1995), alto sax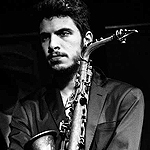 Elias Lapia is from the isle of Sardinia en he studies at the Royal Conservatorium in The Hague. Twelve years old, he started to play saxophone. He began with his musical education in his birthplace Nuoro, moving to Paris in 2015 to continue his studies at the Paris conservatorium. He played in several jazz clubs and festivals in Paris, New York and in Italy.
Accompanists:
Federica Lorusso (1996), piano
Alessio Calore (1993), bass
Michele Pazzini (1991), drums
Alexandre Lesage (1991), piano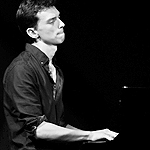 Alexandre Lesage was born in Liège (Belgium) en studies at the Maastricht Conservatorium. In fact, he started as a pop en rock guitar player and classical piano player, but in 2010 discovered jazz as the real inspiration. As he discovered, classical composers like Rachmaninov and Chopin, and the jazz of Thelonious Monk and Duke Ellington, still are relevant to the modern jazz of Fred Hersh, Chick Corea and Keith Jarrett.
Accompanists:
John Wolter (1994), drums;
Wolf van Gemert (1996), bass.
Wednesday March 6
Martin Hafizi (1993), drums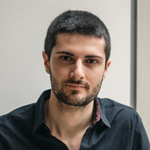 Martin Hafizi was born in Sofia, Bulgarije and he studies at Codarts, university for the arts, in Rotterdam. He started to play percussion when he was six years of age and won several prizes between 2001 and 2015. He obtained his Jazz Bachelor at Codarts in 2016 and a Pop Master in 2018.
Accompanists:
Thomas Maasz (1989), piano
Johannes Fend (1992), bass.
Kirsi Harju (1993), trumpet, voice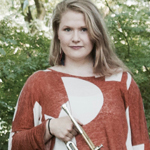 Kirsi Harju is from Finland en she studies at the Conservatorium of Amsterdam. Hom, she discovered, is more a state of mind, the heart, trust, then a physical place. Her music is full of remembrance of her childhood in a small town in Finland, but it is also about the process letting go and adapting to the new and unknown.
Accompanists:
Aurora Hentunen (1992), piano;
Jonathan Nagel (1990), bass;
Yoad Korach (1992) drums.
Lorenzo Vitolo (1998), piano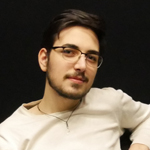 Lorenzo Vitolo originates from Naples, Italy, and he studies at the Prins Claus Conservatorium in Groningen. He started as a classical piano player – graduating cum laude in Naples – the past years hij played in several jazz bands. He won several prizes in Italy. In 2018, he started his jazz master in Groningen.
Accompanists:
Ju Min Park (1991), bass
Georgios Potamianos (1993), drums.
Maripepa Contreras (1989), hobo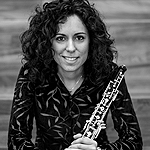 De Spanish Maripepa Contreras studies at the Conservatorium of Amsterdam. There only a few oboe players that do jazz, but she is one of them. Starting to play oboe at the age of five, she first followed a classical education, discovering jazz in 2013. Last year she was in the final with a quintet, now she tries again with a quartet.
Accompanists:
Adrian Moncada (1995), piano
Pedro Ivo Ferreira (1989), bass
Nick Thessalonikefs (1990), drums.