Dear jazz lovers,
With all possible reservations the 2020 FINALS of the Leiden Jazz Award will take place on Sunday June 7. You will understand our reservations: on the one hand June 7 is another two months further, on the other it is totally unclear and unknown how the corona pandemic will develop.
Nonetheless we keep hoping. In the mean time take care of yourself and your loved ones.


LJA Board: Cor Smit (chair), Gerard de Bruin (treasurer), Marja van der Weijden (secretary)
Lieve jazzvrienden,
Met het grootst mogelijk voorbehoud kunnen wij melden dat de FINALE van de Leiden Jazz Award 2020 zal plaatsvinden op zondag 7 juni. U begrijpt ons voorbehoud. Enerzijds is 7 juni nog twee maanden ver, aan de andere kant is het volstrekt onduidelijk hoe de corona-pandemie zich zal ontwikkelen.
Niettemin houden wij goede moed. Let intussen goed op uzelf en uw naasten.
Bestuur LJA.
Final Leiden Jazz Award 2020
Out of thirty entries, a jury selected eight soloists who could perform their music for the preliminaries on 13 and 27 February.

Two participants per evening were allowed to advance to the final on March 22,




The four finalists are: Kibeom Shin, Martin Diaz, Marti Mitjavila and Hila Hutmacher.

They will compete for the Leiden Jazz Award 2020 in the Breezaal of the Stadsgehoorzaal.

More info about the program and the participants;

Then go to the special page Final 2020.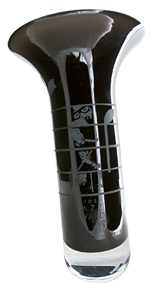 The winner of the four finalists will receive a prize consisting of two parts:
A challenge trophy, a unique crystal jazz stand, designed by visual (glass) artist Siem van der Marel, from Royal Leerdam Crystal. The name of the winner is engraved on it.
A cash prize of € 1,000.-.
The chance to release a CD with Challenge Records.
Smaller cash prizes will be made available for the three runners-up.

The board of Leiden Jazz Award aims for all participants in the final round to perform on one or more stages in the Leiden region. The board has a regional network including many stages and theatres. Participation will create opportunities!