FINALS "BIOPARTNER LEIDEN JAZZ AWARD 2020"
Dear Jazz friends,

With pain in our hearts we must inform you that the planned finals of the LJA2020 on June 7th are cancelled. In fact, there can be no finals at all.

We have had extensive deliberations with the Stadsgehoorzaal. They fear the Stadsgehoorzaal will be still completely closed after May 20th, when the government will announce adjustments to the lockdown. The most positive outcome they expect by then, is that they can open again but only using the 1,5 meter-rules. That means only about twenty, thirty of paying audience would be able to attend the finals, making it financially a (too) heavy burden for both the Stadsgehoorzaal and ourselves. Moreover, the people of the Stadsgehoorzaal themselves are not allowed to come to the Stadsgehoorzaal till June 7th, making it impossible to make sound preparations to the finals anyway. In mutual agreement we decided it would be irresponsible to proceed.

For us, to move the finals to september is no option. We are not able to organise this at the same time that we are starting preparations for the LJA2021: we simply don't have the (wo)manpower to get this done decently. So, there can be finals of the LJA2020
A sad affair, but we hope to see you all back in 2021!


Final Leiden Jazz Award 2020
Out of thirty entries, a jury selected eight soloists who could perform their music for the preliminaries on 13 and 27 February.

Two participants per evening were allowed to advance to the final on March 22,




The four finalists are: Kibeom Shin, Martin Diaz, Marti Mitjavila and Hila Hutmacher.

They will compete for the Leiden Jazz Award 2020 in the Breezaal of the Stadsgehoorzaal.

More info about the program and the participants;

Then go to the special page Final 2020.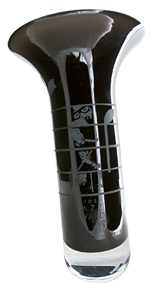 The winner of the four finalists will receive a prize consisting of two parts:
A challenge trophy, a unique crystal jazz stand, designed by visual (glass) artist Siem van der Marel, from Royal Leerdam Crystal. The name of the winner is engraved on it.
A cash prize of € 1,000.-.
The chance to release a CD with Challenge Records.
Smaller cash prizes will be made available for the three runners-up.

The board of Leiden Jazz Award aims for all participants in the final round to perform on one or more stages in the Leiden region. The board has a regional network including many stages and theatres. Participation will create opportunities!