Participation in the Leiden Jazz Award 2020
The Leiden Jazz Award Foundation invited jazz students to the Dutch Conservatories and regional jazz musicians to participate in the competition of the 12th edition of the Leiden Jazz Award. The preliminaries are on February 13 and February 27. The final will take place on Sunday 22 March 2020 in the Breezaal of the Stadsgehoorzaal.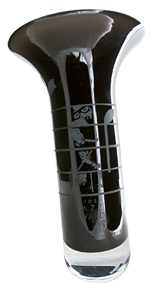 The winner of the four finalists will receive a prize consisting of two parts:
A challenge trophy, a unique crystal jazz stand, designed by visual (glass) artist Siem van der Marel, from Royal Leerdam Crystal. The name of the winner is engraved on it.
A cash prize of € 1,000.-.
The chance to release a CD with Challenge Records.
Smaller cash prizes will be made available for the three runners-up.

The board of Leiden Jazz Award aims for all participants in the final round to perform on one or more stages in the Leiden region. The board has a regional network including many stages and theatres. Participation will create opportunities!
Leiden Jazz Award 2020 now open for regional jazz musicians!
In Februari and March 2020 the 12th edition of the Leiden Jazz Award will be held in the Stadsgehoorzaal in Leiden.
There will be some changes in 2020. As Leiden Jazz Award is a competition that is rooted in a Leiden jazz tradition and was initiated after the publcation of a highly succesful book about the history of jazz in Leiden, it didn't seem more than logical to explicitly invite (non-professional) musicians from the Leiden region to enter the competition. Think experienced local soloists or bands! The rules will be the same as they are for the young professionals. And so will the way they shall be judged. All competitors are 30 years or younger wheter professional or top non-professional.
After application – before or on December 15 – the jury will decide which musicians will be invited for competition, regardless of their professional status.